Strategic Marketing Planning
Marketing is all about letting people know about the product or service you offer, and then persuading them to buy or use it. To market effectively you need to get your message out repeatedly to appropriate target markets, through the most effective mediums that are available to you.
To do this you need to develop both a marketing strategy and a marketing plan. So what's the difference between a marketing strategy and a marketing plan?
The marketing strategy is shaped by your overall business goals. It includes a definition of your business, a description of your products, a profile of your target users or clients and how to reach them, and defines your company's role in relation to your competition.
Your marketing strategy is essentially a document that you use to judge the appropriateness and effectiveness of your specific marketing plans. Your marketing strategy is a summary of your company's products and position in relation to your competition. Your sales and marketing plans are the specific actions you're going to undertake to achieve the goals of your marketing strategy.
A strategic marketing plan first sets about determining a long term vision for the company based on its existing strengths and market opportunities.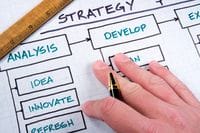 This usually includes various kinds of internal and external research. It then sets out the message to be conveyed, and carefully prioritises targets.
It addresses pricing options and how to achieve a greater value perception to the customer or greater profitability to the client. It also defines numerous ways to reach the target markets, including paid advertising, promotions and selling processes.Finally it includes a complete marketing budget and revenue forecast.
Whether you need to develop an entire marketing strategy or simply want to supplement your your current marketing, Marketminds has the expertise to assist you. Accurately defining your business and the opportunities available to you as well as planning and managing a range of marketing programs can sometimes overload you and your staff and lead to hasty and costly outcomes. Contact Marketminds to find out how we can help you better define your marketing strategy and turn it into a winning marketing plan.